Try ASAPtm For Yourself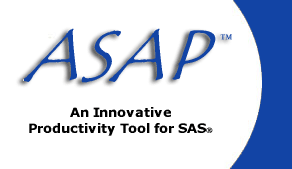 Download a copy of the software together with a free 15-day trial licence from here (16MB).
You will need to supply your name, company name, email address, phone number, and a reference code: 110060 for Australian and New Zealand users.
To help you get up-to-speed with the product, we have prepared a Quick Start guide. You can download it from here (700KB).
Help for the product can be accessed through the Help->OnlineDocumentation menu, or directly on the web here. The help includes frequently asked questions (FAQ), a downloadable PDF User Guide, and a downloadable copy of the HTML help files.
A management overview of ASAP's benefits can be viewed in our slide show; the white paper is here; and a paper on Return on Investment can be viewed here (click the link at the bottom of the ROI page after you've read the introductory text).
Information about ASAP is summarised in our 2-page flyer. You can view it and download it from here (900KB).
If you need any help during or after your trial, just contact us via email or telephone.