Visualise and document your SAS programs
with ASAP(tm) from complementSoft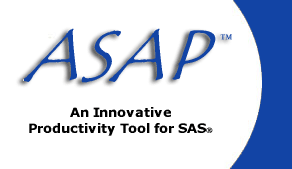 complementSoft's ASAP(tm) will automatically produce data flow diagrams of your SAS code.
The ASAP application is a productivity tool for transferring, editing, debugging and visualising SAS programs. Built-in program flow and data flow visualisation, local and remote execution, and source code template support round-out the features, making the ASAP application an essential tool in any SAS environment. It is an alternative development platform and toolkit for SAS users and programmers.
Forget hand-made diagrams of your code, ASAP does it automatically for you. Read more about ASAP...
Softscape Solutions is the Australian/New Zealand reseller of ASAP so just click here if you'd like to have copy for a 15 day trial.